American Owned and Operated - 100% American Based Customer Service - Custom Sword Engraving - No Accounts Required
Ellexdrow War Spears from the Kit Rae Collection
Kit Rae swords, knives and daggers are available for sale. These Official Kit Rae collectibles are from the famous Swords of the Ancients Collection. Buy all types of officially licensed fantasy swords from this popular series on sale now.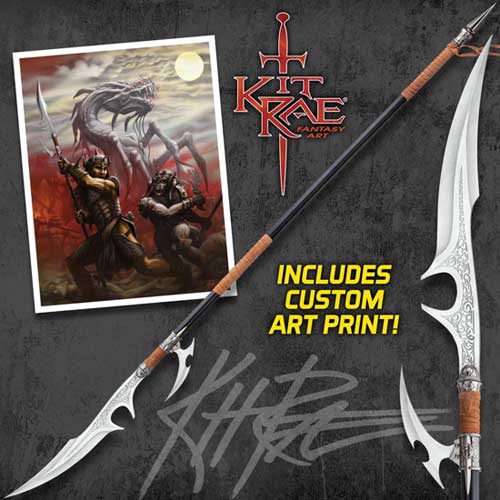 Kit Rae Swords:
Ellexdrow War Spears
$169.99


Kit Rae Ellexdrow War Spear is the first spear for sale in the Kit Rae line. It is one of the fantasy weapons chronicled in Kit Rae's Swords of the Ancients Collection, a fantasy story that crosses through numerous centuries and legends. The Ellexdrow is the spear of the 200 year old Mithrodin master, Kethol av Torketal, who changed the tide of the battle in the Red War by throwing his spear and piercing the heart of The Dark One, securing his defeat. The Ellexdrow War Spear is 71 inches overall. It has both an 18 3/8 inch and an 8 ½ inch AUS-6 stainless blade with laser engravings and the Kit Rae® emblem. The spear has a black, stainless shaft with leather wrapped grips and finely detailed metal fittings. Ellexdrow War Spears include a colorful, custom art print and a certificate of authenticity. These items are serialized and will ship disassembled in two sections.

Popular Licensed Movie Replicas