American Owned and Operated - 100% American Based Customer Service - Custom Sword Engraving - No Accounts Required
Black Prince Swords Made by Marto
Marto Swords and shields for sale are made by the world famous artisans of Toledo, Spain. Since the Roman age, Toledo has produced exceptional swords. Marto strives to follow this tradition. Buy all types of official Marto Swords and Shields on sale now.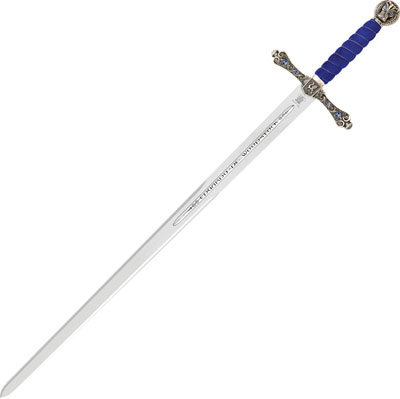 Marto Swords:
Black Prince Swords
Tempered Stainless Steel
Made in Spain
$379.99



Marto Black Prince Swords for sale are 47 inches in all. The swords are made to honor the military prowess of the Black Prince, Edward of Woodstock. The beautiful mirror polished 36 inch blade is unsharpened and features a fuller groove. It is etched with the words Eduardo de Woodstock. These swords feature a royal blue suede covered handle with silver wire wrapping. The sculpted cast metal cross guard, wheel pommel and fittings have an antiqued silver plated finish. The pommel features an intricate three dimensional animal head. The guard is engraved with medieval designs. These official Marto Swords are manufactured in Toledo, Spain. Buy these Black Prince Swords for $379.99.



Excalibur Swords
$379.99
Official Marto Swords

Claymore Swords
$599.99
Official Marto Swords