American Owned and Operated - 100% American Based Customer Service - Custom Sword Engraving - No Accounts Required
Duke of Burgundy Suit of Armor with Display Pedestal
Suits of Armor for sale are over 6 ½ feet tall. This medieval Suit of Armor is fully articulated, historically accurate and meticulously hand forged of 18 gauge steel by master blacksmiths. In the late 14th Century, full plate armor was predominately produced in Germany and Italy. The Italian Gothic Armor, offered both protection and comfort and thus became in high demand in medieval Europe. Buy this handsome full-sized Suit of Armor now for sale in either the Duke of Burgundy or Italian Gothic design.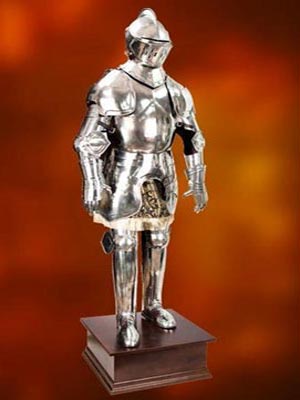 Knight in Shining Armor Display:
Duke of Burgundy
Full Size Suit of Armor
$2399.99
Duke of Burgundy Suit of Armor for sale stands approximately 6 ½ feet tall. The fully articulated Duke of Burgundy Suit of Armor is a full suit of medieval armor designed upon a 1450's Italian style. This beautiful armor is constructed of 18 gauge, hand forged steel and crafted by master blacksmiths. This knightly suit of medieval armor is shipped partially assembled with a gorgeous hardwood display pedestal. Duke of Burgundy Suit of Armor includes a full size skeletal body and decorative skirt. Due to the limited availability of this suit of armor, this item can only be shipped to the verified billing address of the credit card or PayPal verified address. No alternate shipping arrangements may be made. Buy this incredible Duke of Burgundy Suit of Armor for $2399.99.
Special Order Item
Check Stock and Delivery Options with Customer Service
---
See Also: Gothic Suit of Armor

Sword Engraving Services
Personalize Swords and Knives:
- As Low As $25 Per Piece
- Individualize Each Piece
- Engrave Logos and Text
- Engrave Names and Phrases
- Engrave Your Logo
- Choose From Assorted Fonts
Click Here To Customize
Military Swords
Award Ceremonies
Executive Gifts
Private Organizations
Holidays & Birthdays
Weddings & Celebrations