American Owned and Operated - 100% American Based Customer Service - Custom Sword Engraving - No Accounts Required
Functional Hero Claymore Swords
Scottish Swords for sale feature a variety of historical and traditional styles. Scottish Swords available include claymores, basket guard swords and William Wallace longswords. Buy all types of popular historical and medieval Scottish Swords on sale now.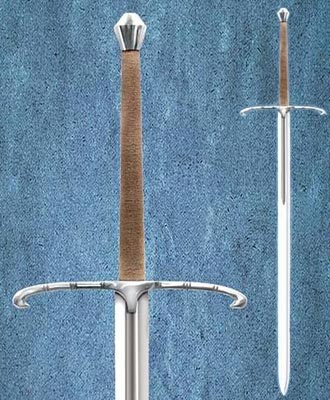 Scottish Swords:
Hero's Warsword
Tempered High Carbon Steel
64 Inches Overall
$329.99


Hero Warsword Claymore Swords for sale are a massive 64 inches in all. The Hero's Warswords are oversized Longswords modeled after real Lowland Claymore swords that were wielded circa 1200-1300 by the Bruce Clan, and perhaps even Robert the Bruce himself. They feature a 48 inch long fully tempered high carbon steel blade. The functional blade has a fuller and is 2 inches thick, 3/16th of an inch thick. All of the metal parts of the Hero's Warsword Claymore Swords are manufactured of steel. The extended length, two handed grip is crafted of wood and wrapped in cord; thus giving this enormous medieval sword a better grip. These swords do not include a scabbard, as the carry style for Scottish swords such as this type was an over the shoulder carry with the flat of the blade down. These longswords are hand crafted. They are truly worthy of the King of Scots weighing a substantial 6 pounds 8 ounces. Buy the colossal and functional Hero Warsword Claymore Swords for $329.99.


Sword Engraving Services
Personalize Swords and Knives:
- As Low As $25 Per Piece
- Individualize Each Piece
- Engrave Logos and Text
- Engrave Names and Phrases
- Engrave Your Logo
- Choose From Assorted Fonts
Click Here To Customize
Military Swords
Award Ceremonies
Executive Gifts
Private Organizations
Holidays & Birthdays
Weddings & Celebrations