American Owned and Operated - 100% American Based Customer Service - Custom Sword Engraving - No Accounts Required
Practical Long Battle Ready Swords
Battle Ready Swords for sale are made for a variety of uses. These battle ready swords feature a functional blade and are built for stage combat and reenactment. All types of styles are available including fencing swords for sparring that feature a button tip and medieval reenactment swords with unsharpened flat blades. Buy all kinds of functional medieval swords for reenactment, theatrical use or display on sale now starting at only $99.99.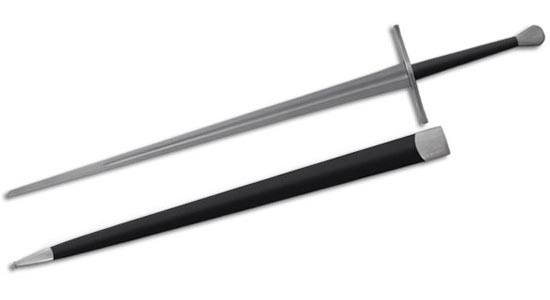 Battle Ready Swords:
Practical Long Swords
Reenactment Blunt Blade
$299.99


Battle Ready Medieval Long Swords for sale are 47 inches in all. This modern version of a medieval Oakeshott Type XVIIIA sword is made for stage combat and reenactment featuring a blunt 35 inch 5160 marquenched spring steel blade that has thick edges and a rounded tip. The 12 inch two handed length wooden handle is wrapped in real leather. They can be disassembled and are Tinker approved. The genuine leather covered scabbard features steel fittings. The Medieval Long Swords typically feature the following specifications: Point of balance 3 ½ inch, point of harmonics 21 ¾ inch, tip width 11/16th inch, guard thickness 0.25 inches and tip thickness 0.07 inch. Buy the Battle Ready Medieval Long Swords for $299.99.