American Owned and Operated - 100% American Based Customer Service - Custom Sword Engraving - No Accounts Required
Early Medieval Battle Ready Swords
Battle Ready Swords for sale feature a functional blade and are built for stage combat and reenactment. All types of styles are available including fencing swords for sparring that feature a button tip and medieval reenactment swords with unsharpened flat blunt blades. Buy all kinds of functional medieval swords for reenactment, theatrical use or display.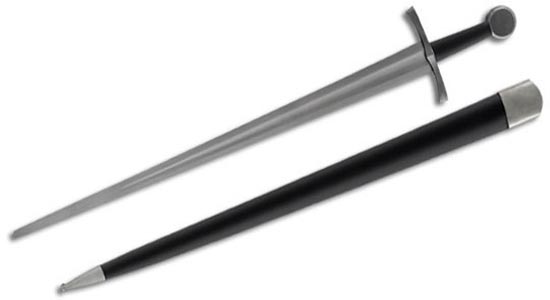 Battle Ready Swords:
Early Medieval Swords
Reenactment Blunt Blade
$329.99


Battle Ready Early Medieval Swords for sale are 38 1/8th inches in all. These Battle Ready Early Medieval Swords are designed by Tinker Pearce as a single-hand Oakeshott Type XII reenactment sword. The design is similar to medieval swords popular in the 13th and 14th Centuries with a blade style commonly used even early by Vikings. These swords feature a 31 3/8th inch blunt blade with a broad, flat fuller. The blade is forged of 5160 Spring Steel that has been marquenched to a hardness of 50-53 Hrc, with the tang drawn back to the low 30s Hrc. The handle length is 6 7/8th inch. These battle ready swords weigh approximately 2 pounds 8 ounces with a functional cruciform hilt. The end of the tang is threaded to suit a 5mm Allen nut which is recessed into the pommel. This design allows the hilt assembly to be dismounted for inspection, grip customization or to change blades. These swords also include a real leather covered wood scabbard with metal throat and chape. Buy the Battle Ready Early Medieval Swords for $329.99.


Sword Engraving Services
Personalize Swords and Knives:
- As Low As $25 Per Piece
- Individualize Each Piece
- Engrave Logos and Text
- Engrave Names and Phrases
- Engrave Your Logo
- Choose From Assorted Fonts
Click Here To Customize
Military Swords
Award Ceremonies
Executive Gifts
Private Organizations
Holidays & Birthdays
Weddings & Celebrations