American Owned and Operated - 100% American Based Customer Service - Custom Sword Engraving - No Accounts Required
Hand and a Half Battle Ready Sword
Battle Ready Swords for sale are made for a variety of uses. These battle ready swords feature a functional blade and are built for stage combat and reenactment. All types of styles are available including fencing swords for sparring that feature a button tip and medieval reenactment swords with unsharpened flat blades. Buy all kinds of functional medieval swords for reenactment, theatrical use or display on sale now starting at only $99.99.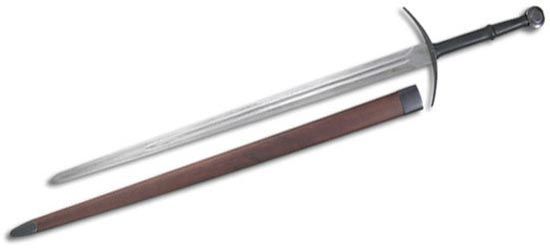 Battle Ready Swords
Hand and a Half Swords
High Carbon Steel
Functional Blade
$299.99


Battle Ready Hand and a Half Swords for sale are 50 1/8th inches in all. They are inspired by real swords from the 16th century that were used by medieval foot soldiers and called Bastard Swords because the handle length was in between a single handed sword and two handed. This well balanced contemporary version has a 6 7/8th inch handle. The unsharpened 38 ¾ inch 1566 high carbon steel functional blade has a broad fuller and features an antiqued finish to give the sword an authentic battle worn appearance. The steel chape and throat of the wooden leather covered scabbard also feature an antique patina. They typically have the following specifications with slight variations naturally occurring per sword: Point of balance at 5 ½ inch, point of harmonics ¼ inch, guard width 1.94 inch, tip width 0.95 inches, 0.22 inch guard thickness and tip thickness of 0.16 inch. Buy these Battle Ready Hand and a Half Swords for reenactment and stage combat for $299.99.