American Owned and Operated - 100% American Based Customer Service - Custom Laser Engraving - No Accounts Required
Zatoichi Stick Swords with Carbon Steel Blade
Shinwa Swords for sale are hand-forged, handmade and feature folded Damascus steel blades. The folding process creates unique blade patterns on each of these traditional Japanese swords. Buy these functional sharpened swords available with samurai katana, Nodachi and ninja blades in all types of popular colors and designs.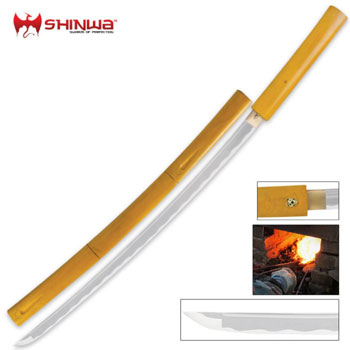 Shinwa Stick Swords:
Zatoichi Stick Swords
Carbon Steel Blade
Polished Wood
$99.99


Shinwa Zatoichi Swords for sale are 41 inches in all. These Zatoichi Swords feature a high carbon steel, hand forged blade that is hand folded and sharpened. These full tang stick swords are crafted like the swords used by Zatoichi, the Blind Samurai. Zatoichi was a popular character in Japanese anime, movies and TV. With this type of traditional Japanese design, the sword looks like a solid stick when placed into the scabbard. Unlike samurai katana swords, the Zatoichi swords lack a tsuba and lack the other fittings common with Japanese katanas. The hardwood scabbard is made to look like a stick of bamboo. The heavy hardwood handle features the same lacquered finish as the scabbard and has a brass stud accent. These functional swords are made by Shinwa. Buy the Zatoichi Wood Handle Swords for $99.99.