Scottish Dirks with Custom Sheath
Medieval Daggers for sale include a wide variety of different styles. Designs in this category include battle ready functional daggers with high carbon steel blades and popular display pieces. Buy all types of medieval daggers on sale now.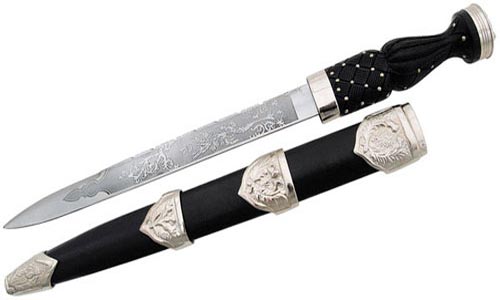 Scottish Swords:
Scottish Dirks
Etched Steel Blade
Custom Sheath
$39.99


Scottish Dirks for sale are 17 inches in all. These handmade Scottish Highland Dirks feature an intricate medieval pattern engraved on the blade. The 11 3/8th inch steel dagger blade features a display ready unsharpened edge. The black handle features an etched pattern and polished silver colored accents. The scabbard is covered with leather and decorated with polished steel accents engraved with medieval patterns. Buy the popular Scottish Dirk for $39.99.