American Owned and Operated - 100% American Based Customer Service - Custom Laser Engraving - No Accounts Required
Military Knives and Camo Knives for Sale
Knives and daggers of all types from top manufacturers. We carry Medieval Battle Ready Daggers, Scottish Dirks, Cold Steel knives, Colt, Military Knives like Dark Ops, Leatherman, Mission Knives, Smith and Wesson, SOG, Spyderco, United Cutlery Knives, Gil Hibben Knives, Bowies and Survival Knives.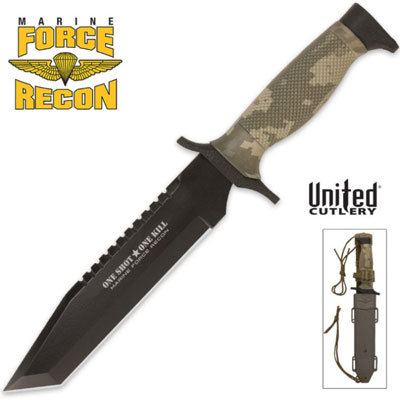 Military Knife:
United Nightstalker Tanto
$29.99


When the Marine Force goes into the night, they need a knife that will get the job done. They carry this 12" stalker, with a 7" black-coated AUS-6 stainless steel blade with a double-serrated back edge. The camo rubberized handle provides a no-slip grip and features a lanyard. The whole package fits snugly in the included nylon and ABS sheath.