American Owned and Operated - 100% American Based Customer Service - Custom Sword Engraving - No Accounts Required
Legacy Arms Medieval Swords
Legacy Arms leads the way in the affordable swords creating tough, well made items for the Medieval Sword enthusiast. All blades are tempered 5160 steel with a robust apple-seed edge. The hilt construction is typically in steel unless noted and the grips are leather over wood. The tangs are peened over the pommel. The fit and finish of these swords from Legacy Arms is quite impressive, and would be at twice the price.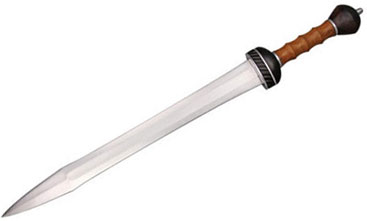 Legacy Arms Swords:
Roman Maintz Gladius Swords
$189.99


Legacy Arms Roman Maintz Gladius Swords are 29 1/2" overall. These swords have a 21" 5160 high carbon spring steel blade. Grooved brown hardwood handle with black wood and stainless trim is 8 1/4". Includes wood scabbard with black leather cover and stainless trim. Sword weighs 3lbs.

Sword Engraving Services
Personalize Swords and Knives:
- As Low As $25 Per Piece
- Individualize Each Piece
- Engrave Logos and Text
- Engrave Names and Phrases
- Engrave Your Logo
- Choose From Assorted Fonts
Click Here To Customize
Military Swords
Award Ceremonies
Executive Gifts
Private Organizations
Holidays & Birthdays
Weddings & Celebrations