American Owned and Operated - 100% American Based Customer Service - Custom Sword Engraving - No Accounts Required
Practical Blunt Viking Sword with Scabbard
Battle Ready Swords for sale feature a functional blade and are built for stage combat and reenactment. All types of styles are available including fencing swords for sparring that feature a button tip and medieval reenactment swords with unsharpened flat blunt blades. Buy all kinds of functional medieval swords for reenactment, theatrical use or display.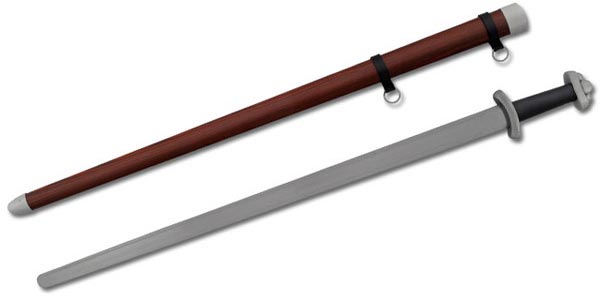 Battle Ready Swords:
Practical Viking Swords
Reenactment Blunt Blade
$229.99


Practical Viking Swords for sale are 33 ½ inches in all. They are designed after the real sword of medieval Danish King Godfred, who ruled during the Viking period of the early 9th century. This modern practical version features an unsharpened and non-pointed 28 inch 1065 high carbon steel blade with a 50HRC. The functional blade has a wide fuller making it light and well-balanced. They are popular with the reenactment community because of the rounded tip and 1/16th inch wide blade edge. They offer significant tangs, radius corners at the blade shoulders and no welds. The tang is riveted over the pommel which decreases the chance of inadvertent disassembly. The customizable glass-filled resin scabbards have a wood-grain finish for personalization and adjustable belt rings for vertical or horizontal carry. The 5 ¾ inch hardwood grips are wrapped in real leather. They weigh 2 lbs 2 oz. Buy these Practical Viking Swords for reenactment and stage combat $229.99.

Sword Engraving Services
Personalize Swords and Knives:
- As Low As $25 Per Piece
- Individualize Each Piece
- Engrave Logos and Text
- Engrave Names and Phrases
- Engrave Your Logo
- Choose From Assorted Fonts
Click Here To Customize
Military Swords
Award Ceremonies
Executive Gifts
Private Organizations
Holidays & Birthdays
Weddings & Celebrations