American Owned and Operated - 100% American Based Customer Service - Custom Sword Engraving - No Accounts Required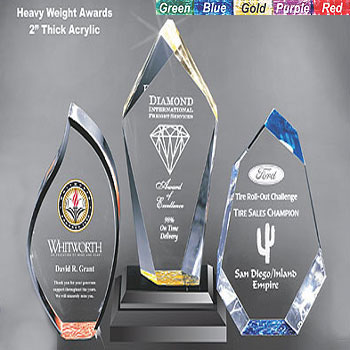 Custom Awards:
Specialty Cut Award
100 Characters of Text
Choice of Color Accent
$159.99

Left to Right:
Fire: 5.5 W X 9 H X 2" Thick
Diamond: 5.75 W X 11 H X 2" Thick
Ice Block: 6 W X 8.5 H X 2" Thick

Specialty Cut Awards are made from the finest crystal clear acrylic with a unique wrinkled accent bottom in your choice of colors: Green, blue, purple, red, gold, black, clear wrinkle (looks silver). Normal production time is 7 to 10 days. This award includes up to one hundred characters of laser etched text. Different size fonts can be used in the design. Custom logos can be added for a small fee. Contact Customer Service directly to add logo services.