American Owned and Operated - 100% American Based Customer Service - Custom Laser Engraving - No Accounts Required
SOG Tactical Tomahawaks
SOG Tactical Tomahawaks for sale are popular with the United States Military, Swords, Knives, Spears and Tactical Survival Equipment for sale. Lightweight to be carried all day without added muscle fatigue and the blade of this offers a wide, upswept axe blade for mammoth chopping, slashing and cutting potential.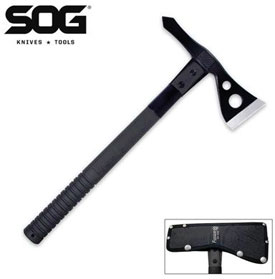 SOG Tactical:
SOG Tactical Tomahawaks
$49.99

SOG Tactical Tomahawk for sale is manufactured by SOG Knives who based the design upon the Vietnam Tomahawk. SOG updated this design into a contemporary and functional tool. The Tactical Tomahawk measures 15 ¾ inches in all. Popular with the military, it features a black Hardcased coated 420 stainless steel axe head. The blade measures 8 ¼ inches and features a 2 ¾ inch cutting edge with an RC Hardness of 51-53. The straight style axe head is mounted to the handle with heavy duty bolts and a steel ferrule for stability. The handle is a tough fiberglass reinforced nylon material. For the utmost in function and tactical performance, they feature side hammer checkering which assists in proper placement when pounding. In order to easily carry the 24 ounce Tactical Tomahawk in the field, they also include a nylon sheath. These versatile survival Tomahawks are an excellent companion for camping, military operations and tactical use. Buy the SOG Tactical Tomahawk for $49.99.