Wild West Replica Cartridges
Civil War and Wild West replicas for sale feature a variety of different designs. These Civil war and Wild West replicas are ideal for stage and theatrical use and are reproductions based off of real historical pieces used by the military. Buy all types of replicas and displays on sale now.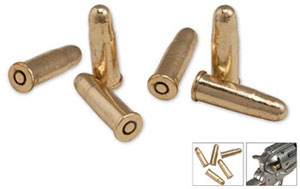 Replica Cartridges
Brass 6 Pack
$11.99


These brass finish cartridges are made to fit the Civil War style replicas. They are solid metal castings and cannot be made to fire. Each set includes six pieces that are 1/4" in diameter and are 1 1/4" overall.
---