American Owned and Operated - 100% American Based Customer Service - Custom Laser Engraving - No Accounts Required
Scimitar Swords for Sale
Scimitar Swords and Shamshir Swords in assorted styles and sizes. These popular curved bladed swords are available in short decorative sizes made of stainless steel to fully functional high carbon steel Scimitar Swords.


Scimitar Swords:
Hawksbill Scimitar Swords
Functional and Balanced
$169.99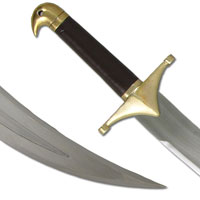 Hawksbill Scimitar Swords for sale measure 38 inches overall with an unsharpened 31 inch blade. These scimitars offer an authentic medieval scimitar style while providing a modern day functional sword that has the ultimate balance and a dull edge required for Middle Eastern dancers. The handle is 4 ½ inches in length and the weight is 3 lbs 2 oz. These scimitars feature hardwood grips and a pommel in the shape of a hawksbill. Buy these popular Hawksbill Scimitar Swords for both beauty and function for $169.99.