American Owned and Operated - 100% American Based Customer Service - Custom Laser Engraving - No Accounts Required
Pirate Swords for Sale
Pirate Swords for sale are available from several manufacturers and in a variety of styles. Decorative and display cutlasses are light and an ideal choice for awards and ceremonies. Cutlasses and cupped handle designs are popular for costumes, pirate themed and naval themed weddings and for stage. New pirate hats, boots and costumes are all on sale now. Buy all types of pirate swords, scimitars and cutlasses for display and reenactment.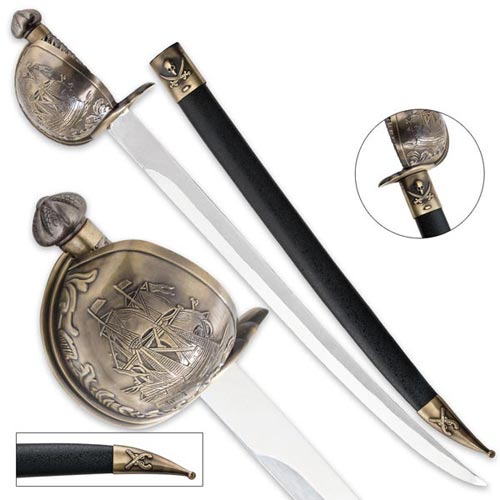 Pirate Swords:
Decorative Pirate Swords
$59.99



Decorative Pirate Swords for sale measure 28 1/8th inches overall. The 22 ¼ inch blades are manufactured of 440-stainless steel and have a factory edge. The pommel and handle of these pirate swords are crafted of sculpted metal. The hand guard has an antique brass-colored finish. In tribute to the high seas and nautical feel of these pieces, the handle features intricate etchings of sailing ships. These swords include a black composition scabbard which features a brass tip and a brass throat. And, what pirate sword would be complete without the Jolly Roger? Brass skull and crossbones adorn the scabbard. These pirate swords feature ornate engraving with a mightiness fit for any pirate or marauding raider. Buy these popular Pirate Swords for $59.99.