American Owned and Operated - 100% American Based Customer Service - Custom Laser Engraving - No Accounts Required
Sword Care and Blade Maintenance
Sword Care Supplies for sale are made to enhance all types of blades. Maintenance kits include supplies to keep blades clean, benchstones and water stones for sharpening, sword oil for inhibiting rust and polishing cloths and pastes to keep blades clean. Buy all types of sword maintenance supplies on sale now.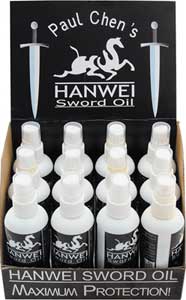 Sword Care:
Sword Oil 2 PK
Includes Two Bottles
$9.99
Sword Oil for sale is specially formulated to supply corrosion protection and maintenance for high carbon steel and all other types of blades. This popular item is available in a convenient spray pump bottle. Each of these bottles of sword oil contains 4 ounces. This sword and blade maintenance oil has been carefully created by Paul Chen of Hanwei to create maximum protection. This set contains two bottles of sword oil. Buy this set of two Hanwei Sword Oil bottles for only $9.99.