American Owned and Operated - 100% American Based Customer Service - Custom Laser Engraving - No Accounts Required
Pirate Swords for Sale
Pirate Swords for sale are available from several manufacturers and in a variety of styles. Decorative and display cutlasses are light and an ideal choice for awards and ceremonies. Cutlasses and cupped handle designs are popular for costumes, pirate themed and naval themed weddings and for stage. New pirate hats, boots and costumes are all on sale now. Buy all types of pirate swords, scimitars and cutlasses for display and reenactment.


Scimitar Swords:
Hawksbill Scimitar Swords
Functional and Balanced
$159.99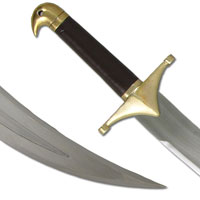 Hawksbill Scimitar Swords for sale measure 38 inches overall with an unsharpened 31 inch blade. These scimitars offer an authentic medieval scimitar style while providing a modern day functional sword that has the ultimate balance and a dull edge required for Middle Eastern dancers. The handle is 4 ½ inches in length and the weight is 3 lbs 2 oz. These scimitars feature hardwood grips and a pommel in the shape of a hawksbill. Buy these popular Hawksbill Scimitar Swords for both beauty and function for $159.99.