Laser Etching Text Services
Etching Cost Per Piece: $25
---
Standard Sword and Knife Etching:
Laser Etching Services includes one line of up to 60 characters of etched text. If space is available, font sizes can be mixed as seen in the sample image above. All laser etching services are done in house so there are no additional delays in processing orders. Contact Customer Service directly for special requests after your sword etching service is purchased.
To Order Laser Etching Services:
Step 1) Add the items that you would like Laser Etched to your shopping cart.
Step 2) Add the Laser Etching Services for the number of items you would like etched to your shopping cart by clicking the 'Buy Now' button above.
Step 3) Checkout and complete your purchase. When your order number is issued, a link to the Laser Details Form will appear on the screen. Click the link and fill out the form for your laser etching details. The Laser Details Form can also be submitted below, once the services have been purchased.
---
Military Sword Etching:

Military swords will be etched in the designated areas using Old English font, see above image. Some designated areas may be limited to less than 60 characters using the proper font size. If any adjustments need to be made regarding your laser etch request, you will be contacted directly by Customer Service.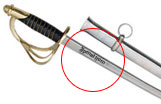 If there is no designated area, the etching will be placed above the guard on the right side of the sword and will read from left to right or from the hand guard to the blade point of the sword, see image to the left.
---
If you have any questions, contact Customer Service
Multi Piece Laser Etching Form - Click Here