American Owned and Operated - 100% American Based Customer Service - Custom Laser Engraving - No Accounts Required
Scimitar Swords for Sale
Scimitar Swords and Shamshir Swords in assorted styles and sizes. These popular curved bladed swords are available in short decorative sizes made of stainless steel to fully functional high carbon steel Scimitar Swords.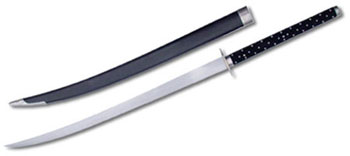 Scimitar Swords:
Dark Sentinel Swords
$149.99



Dark Sentinel Swords for sale offer a unique combination of a scimitar, samurai katana and a dueling sword. These swords are light and quick enough for single hand fencing, weighing 2 lbs 3 oz. However, the Dark Sentinel can also yield remarkable two handed power. These swords feature a 10 ½ inch, studded leather-wrapped grip with a stylized tsuba-like guard. The sharpened, forged high-carbon steel scimitar blade is complemented by a leather-covered scabbard with steel fittings. These swords measure 47 3/8th inches with a 31 ½ inch blade. The thickness at the guard is 0.230. From the slightly curved scimitar style blade to the studded leather handle, this authentic Dark Sentinel Sword incorporates many different elements and features to create both a unique and functional piece. Buy these genuine Dark Sentinel Scimitar swords for $149.99.