American Owned and Operated - 100% American Based Customer Service - Custom Laser Engraving - No Accounts Required
Swords and Popular Collectibles
Swords Direct offers hundreds of swords for sale. Shop from over fourty categories of swords. Movie swords, display and practice swords in addition to functional Samurai Swords, Practical Katana Swords, Broadswords, Scimitar Swords, Pirate Swords and Medieval Swords are available. We accept all major credit cards and PayPal.

Templar Sword Special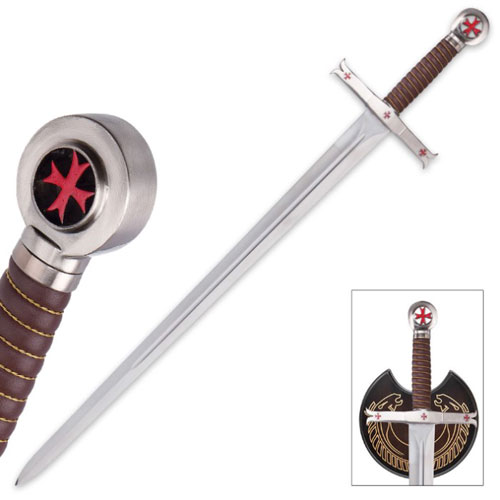 Free Laser Etching
Sword Special:
Fighting Knights Templar Swords
Includes Wall Plaque & Etch
Free Laser Etch up to 60 Characters
$89.99

Fighting Knights Templar Swords for sale are 39 inches in all. These swords feature a display ready stainless steel blade and include a free wooden display plaque. The mirror polished 30 ½ inch blade features a factory edge on both sides. The metal wheel pommel in engraved with the famous red cross of the Order of the Templar Knights. The straight metal guard is engraved with three more red crosses. The grip is covered in brown leather with a gold wire wrap. The free wooden display plaque features a pattern of two golden horse heads. These swords also include a free laser etching. Personalize this sword and etch up to 60 characters. Just fill out the Laser Details Form after checkout. Buy the Fighting Knights Templar Sword with free laser etching for only $89.99.
---