American Owned and Operated - 100% American Based Customer Service - Custom Laser Engraving - No Accounts Required
Scimitar Swords for Sale
Scimitar Swords and Shamshir Swords in assorted styles and sizes. These popular curved bladed swords are available in short decorative sizes made of stainless steel to fully functional high carbon steel Scimitar Swords.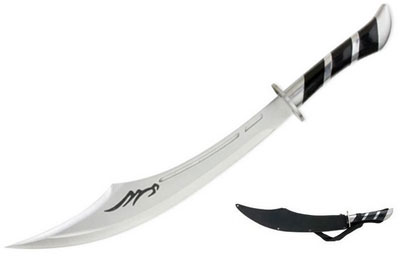 Scimitar Swords:
Arabian Scimitar Swords
$39.99


Arabian Scimitar Swords for sale combine medieval authentic curved blade construction with a futuristic anime appearance. These swords measure 25 inches overall. The medieval scimitar style blade is 17 ½ inches and manufactured of sharpened stainless steel. These swords are both popular and unique because of the combination of the historical medieval Arabian scimitar style blade with the features of a modern day fantasy sword. For example, while the blade type may be similar to Arabian scimitars, the blade also features fantasy designs and anime cutouts. The handle is crafted of a hardwood with stainless steel accents throughout it in a twisting design creating an anime or modern fantasy sword appearance. The guard is made of stainless steel and coordinates with the handle. These swords are full tang and also include a nylon scabbard. Buy these Arabian Scimitar Swords for classic style with a contemporary twist for only $39.99.