Sword Care

and Blade Maintenance

We carry an assortment of blade care essentials. Sword Maintenance Kits, Blade Polishing Paste, Polishing Cloths, Sword Oil, Rust Erasers and Blade Sharpening Stones in various grits are available.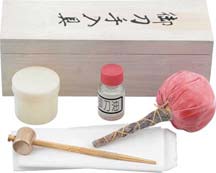 Sword Care:
Sword Cleaning Kit
Price: $14.99
Includes blade oil, oiling cloth, powder ball for blade polishing, brass awl and hammer. Comes in wooden box.