Real Swords - Real Knives - Popular Movie Replicas - Flat Rate Shipping - Simple Secure Checkout - No Accounts Required
Medieval Battle Axes, Halberds, Tridents and Weaponry
Medieval Battle Axes for sale are available in all types of designs. This collection includes both popular display pieces and functional battle axes made with high carbon steel. Buy medieval styles or modern designs such as survival spears and equipment, tactical hammers and Karambits.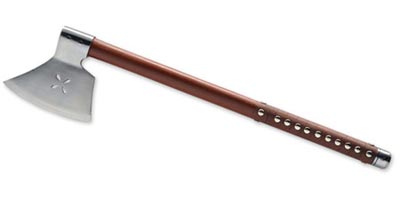 Brookhart Teutonic War Axe
$179.99


Brookhart Teutonic War Axe for sale is made by Legacy Arms. They are 27 ½ inches in all and feature a sharpened 5160 high carbon steel axe head. The blade measures 7 inches by 6 inches. They weigh approximately 4 pounds. The Teutonic War Axe is a medieval German style axe that was designed for Legacy Arms by Bruce Brookhart. The sharpened axe head is securely double pinned to the hardwood shaft. They feature a tacked leather grip and a steel butt cap. Buy the popular Brookhart Teutonic War Axe for $179.99.