Medieval Battle Axes, Halberds, Tridents and Weaponry
Medieval Battle Axes, Functional Battle Axes, Tridents, Halberds and other assorted Medieval Weapony. Modern Survival Axes, Survival Spears, Tactical Hammers, Karambits, and Survival Equipment are also available.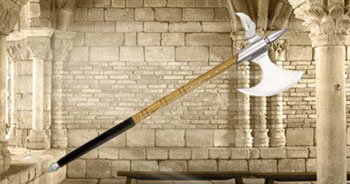 Full Size Medieval Battle Axe
$249.99



Item Number: MDL55095
Handmade Item
Overall Length: 38"
Blade Length: 10"
Handle Length: 30"
Spike: 4"
Width: 12"
Blade Material: Hand Hammer Forged High Carbon Steel
Handle: Sagad Wood
Weight: 5.3 lbs.
Medieval Battle Axe: A single bladed battle axe with an overall length of 38 inches. The beautifully hand crafted Medieval Battle Axe has a 10 inch primary blade and is backed by a 4 inch long sharpened armor piercing hook. This Battle Axe has solid steel thrusting spikes at both ends of the beautiful sagad wood leather wrapped handle.