American Owned and Operated - 100% American Based Customer Service - Custom Laser Engraving - No Accounts Required
Pirate Swords for Sale
Pirate Swords for sale are available from several manufacturers and in a variety of styles. Decorative and display cutlasses are light and an ideal choice for awards and ceremonies. Cutlasses and cupped handle designs are popular for costumes, pirate themed and naval themed weddings and for stage. New pirate hats, boots and costumes are all on sale now. Buy all types of pirate swords, scimitars and cutlasses for display and reenactment.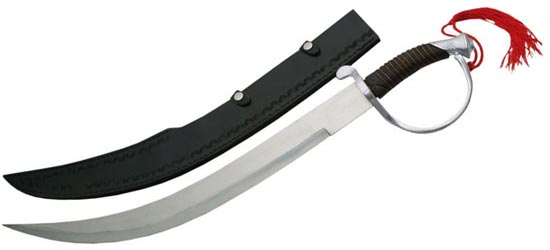 Pirate Swords:
Pirate Swords
Silver Colored Guard
$39.99



Silver Pirate Swords for sale are 25 inches overall. These swords have a stainless steel 19 inch blade. The grip is manufactured of a black composition material with a wire wrap. The guard is crafted of a silver colored metal. These pirate swords also include a black faux leather scabbard. The scabbard features snaps to enclose the sword when not in use. These swords feature an interesting combination of a traditional scimitar style with the measurements of a cutlass. While the cutlass may be the favored sword of a sailor, this sword better suits a pirate. Buy these Silver Pirate Swords for a medieval pirate appearance with scimitar styling for $39.99.