Scimitar Swords and Shamshir Swords for Sale
Scimitar Swords and Shamshir Swords in assorted styles and sizes. These popular curved bladed swords are available in short decorative sizes made of stainless steel to fully functional high carbon steel Scimitar Swords.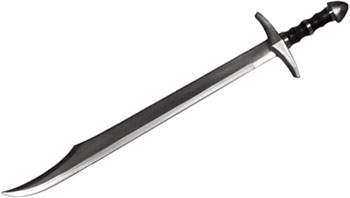 Scimitar Swords:
Falchion Scimitar Swords
$279.99



Item Number: MDL54104
Handmade Item
Medieval Falchion Scimitar Swords are a one-handed, single-edged sword of European origin, whose design is reminiscent of the Persian scimitar and the Chinese Doa. Falchions are found in different forms from around the 11th century up to and including the sixteenth century. Ours features a 24 blade with a beautifully shaped hand guard. The handle is custom finger grooved Macassar Ebony Wood with solid steel spacer inserts. A genuine brown leather scabbard is included with this sword.
Overall Length: 30"
Blade Length: 24"
Handle Material: Leather Wrapped Macassar Ebony
Cross Guard: 6"
Blade Type: Full Tang
Weight: 3.5 Pounds
Blade Material: Tempered Hand Hammer Forged High Carbon Steel
Handle Material: Custom Finger Grooved Brown Macassar Ebony Wood
Sheath Included: Custom Genuine Brown Leather Scabbard