Pirate Swords for Sale
Pirate Swords for sale include decorative and display cutlasses and scimitars as well as high carbon steel, sharpened blades by manufacturers Medieval and Cold Steel. Cutlasses are modeled after arms used by pirates and sailors. Both the British Royal Navy and the U.S. Navy have used cutlasses for functional and ceremonial purposes. They usually have a curved blade but are shorter than the scimitars. Scimitar is an Arabic word for sword and describes the curvature of the blade. Whether for display, such as the Sinbad or for functionality, like the Cas Iberia Hawksbill Scimitar, frequently used by Eastern Dance practitioners, our selection makes it easy to find the perfect fit for your needs.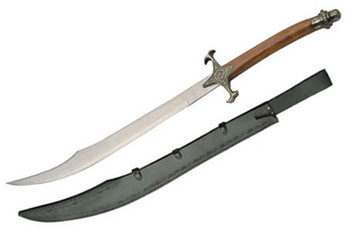 Pirate Swords:
Scimitar Swords
Price: $59.99


Scimitar Swords are 39" overall. These scimitar swords have a 24 1/4" sharpened stainless blade. Wood handle with pewter finish cast metal guard and pommel. Black leather scabbard for Scimitar included.