Fencing Swords for Sale
Fencing Swords category includes Swept Hilt Rapiers, Stage Combat Swords and Main Gauche. Many of the fencing swords have high carbon steel blades with blunt tips. Also offered is a great selection of high-carbon flex-tempered steel blades, Practical stage combat rapiers with unsharpened high carbon steel blades with button tip and Renaissance style fencing swords.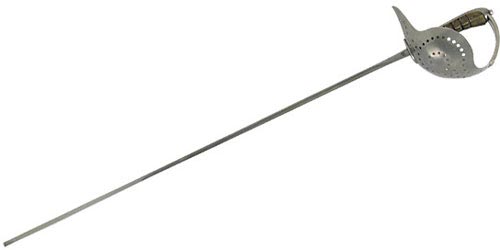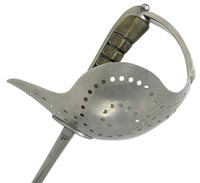 Fencing Swords:
Pecoraro Fencing Swords
$169.99


Pecoraro Fencing Swords for sale are popular and functional dueling sabres. These fencing swords measure 40 ¼ inches in all. They have a 34 inch flex tempered, high-carbon steel blade which is flexible towards the button tip. Cas Iberia designed the Pecoraro Fencing Swords after real dueling sabres that were used in the 19th century in Italy. The initial purpose of these dueling sabres was to train mounted military troops during this era. This concept of military sword training is credited with originating from Italian fencing master Giuseppe Radaelli with further advancements being developed by Salvatore Pecoraro, for whom this design of sword was named. The advancements developed by Pecoraro resulted in the Military Masters School in Rome adopting many of his concepts regarding military sword training. These fencing swords, or military dueling sabres, have a wire-wrapped sharkskin pattern on the 5 ¾ inch handle. Although these fencing swords closely reflect the actual dimensions of the real dueling sabres, Cas Iberia used a button tip for added sparring, stage combat and fencing safety. Pecoraro Fencing Swords have a full-cupped perforated guard, ridged for reinforcement at the thinner pommel end of the D. These swords feature a stainless steel guard. They do not, however, include a scabbard. These fencing swords typically weigh 1 lb, 5 ounces. Buy these authentically designed, functional Pecoraro Fencing Swords for a sword that combines the authentic style of a real military sabre with functional construction that can be used for real fencing for $169.99.

---

Fencing Swords:
Leather Fencing Sword Belt with Frog
$39.99
Sword Belt with Universal Frog. This sword belt is made of black leather with an attached frog and metal skull and crossbones accents. This item will hold a sword, main gauche, dagger or dirk.