American Owned and Operated - 100% American Based Customer Service - Custom Laser Engraving - No Accounts Required
Medieval Swords for Sale
Medieval Swords for sale are available in many different styles. These popular pieces are inspired by real swords, legendary figures or famous historical people. Buy all types of functional, battle ready and display medieval swords on sale now.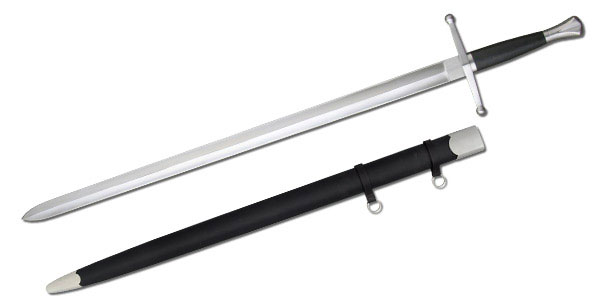 Medieval Swords:
War Swords
Functional Sharpened Blade
Custom Scabbard
$219.99


Functional War Swords for sale 40 ½ inches in all and weigh 2 ¾ pounds. This sword is inspired by real medieval swords that were popular in the 14th century. This modern version features a sharp 32 ½ inch blade. The functional blade is forged in polished 1566 high carbon steel. The bastard length handle is topped by an elongated scent-stopper style pommel. The 8 inch handle is crafted of Makassar ebony wood covered in real black leather which contrasts against the polished steel guard. The black leather covered scabbard is accented with polished steel fittings. Buy the Medieval War Swords for $219.99.