American Owned and Operated - 100% American Based Customer Service - Custom Laser Engraving - No Accounts Required
Medieval Swords for Sale
Medieval Swords for sale are available in many different styles. These popular pieces are inspired by real swords, legendary figures or famous historical people. Buy all types of functional, battle ready and display medieval swords on sale now.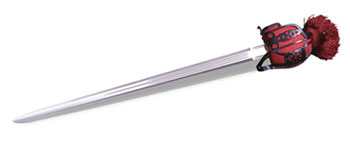 Scottish Swords:
Scottish Broadswords
$269.99


Cold Steel Scottish Broad Swords are 37 3/4" overall. It has a 31 1/2" battle ready sharpened 1050 carbon steel single edged blade with blood groove. Black leather wire wrapped handle and blued steel basket hilt with red cloth liner. Wood and leather scabbard with blued steel tip and throat.
---

Scottish Broadswords:
Scottish Claymore Broadswords
$299.99


Mainstay of the Highland warriors of the late 15th and 16th centuries, the Claymore had a uniquely styled hilt that sets it apart from other great swords of the period. Typically of longsword length, this versatile weapon could deliver great sweeping slashes or powerful thrusts. Replicated from a surviving museum piece the Hanwei Claymore is classic in its design, with distinctive sloping quillons terminating in quatrefoils and a high-collared quillon block with langets following the blade fuller. The leather-covered grip is topped by a globate pommel. This version of the sword has an antiqued finish, closely replicating that of the original museum piece. The grip is leather-covered.
---

Viking Broadswords:
Hand-and-a-Half Swords
$329.99


Hand-and-a-Half Swords are 44 1/2 inches overall. These swords have a 35" unsharpened steel blade with blood groove. Black leather wrapped handle with nickel silver finish cross guard and sculpted wheel pommel. Black leather scabbard with nickel silver finish tip and throat. Fully functional swords.
---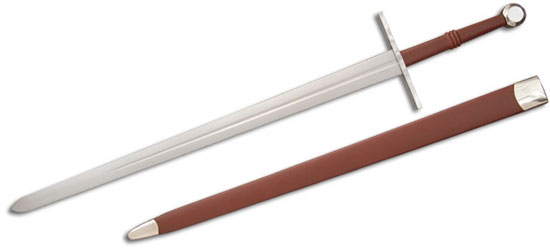 Medieval Broadswords:
Great Sword of War
$349.99


The Great Sword of War is sharpened and have an overall overall length of 47 5/8", it has a blade length of 35 7/8", a handle length of 11" and weighs 3lb 14oz. This sword is designed and crafted purely as a cutting sword and, weighing in at a little less than four pounds, it is built to excel on heavy targets. The 11" grip provides excellent leverage and static and dynamic balance are to Tinker demanding standards. The blade is again forged in 5160 and marquenched to HRC50-52. The hilt is retained by Tinker signature recessed sleeve mounting system, providing secure retention and easy hilt tightening, using the Allen wrench provided.
---