American Owned and Operated - 100% American Based Customer Service - Custom Laser Engraving - No Accounts Required
Medieval Swords for Sale
Medieval Swords for sale are available in many different styles. Popular items in this category include battle ready, functional or display and collectible designs. Most have historical details or are inspired by real swords. Buy all types of medieval swords now on sale.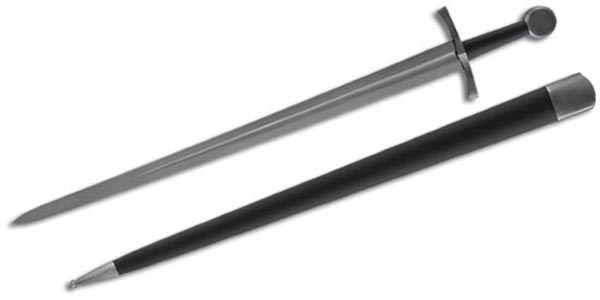 Medieval Swords:
Early Medieval Swords
5160 Marquenched Spring Steel
Custom Scabbard
$259.99


Early Medieval Swords for sale are 38 ½ inches in all and weigh 2 ½ lbs. The Early Medieval Sword is designed by Michael Tinker Pearce and features an Oakeshott Type XII design and a sharp and functional 31 ¾ inch 5160 spring steel blade. The blade is marquenched to a hardness of 50-53 HRC and features a traditional fuller. The wooden 6 7/8th inch handle is covered in real leather. The tang is threaded to fit a 5 mm Allen nut which is recessed into the pommel permitting the sword to be disassembled for maintenance and customization. The wooden scabbard features a genuine leather wrap and a metal throat and chape. Buy the Early Medieval Swords for reenactment and cutting for $259.99.