Masonic Swords for Sale
Masonic Swords and Daggers for sale include an assortment of styles modeled after Free Masonry, Knights Templar and the legend of King Arthur. This collection includes decorative and ceremonial swords from our online shop of Masonic Swords and daggers, many of which include display plaques.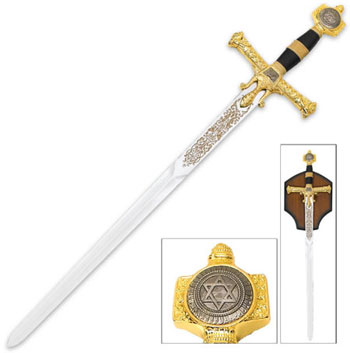 Masonic Swords:
King Solomon Swords
Price: $99.99



This classic recreation offers the appealing craftsmanship and beauty that will make it a valuable addition to any collection. This sword features a stainless steel 36" stainless steel blade adorned with intricate laser etchings. The cast metal pommel and guard are antique gold plated and feature the Star of David and Ark of the Covenant symbols. The grip features sleek black spacers surrounded by cast metal engravings. This sword measures 47" overall and includes a solid wood display.