Hanwei Swords
Hanwei Swords in assorted styles for sale. These are functional Swords made by Hanwei. We carry the Tactical Katana Series, Practical Katana Swords, Musashi Katanas and other popular sword collections. Competitive cutting XL Katana blades are also available. These wide blades will reward good technique with clean cuts and excellent durability.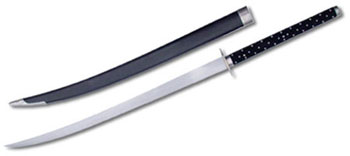 Hanwei Swords:
Dark Sentinel Swords
Price: $149.99


Combining the slashing power of the Samurai Katana with the agility and thrusting ability of fine European dueling swords, the Hanwei Dark Sentinel is a handsome sword with a bite. Light and quick enough for single-hand fencing but with the ability to turn on awesome two-handed power, the Dark Sentinel sword from Hanwei will guard the castle gates against all would-be usurpers - without draining the Royal treasury! The forged high-carbon steel blade is complemented by a studded leather-wrapped grip with a stylized tsuba-like guard. A leather-covered scabbard with steel fittings completes the package.
Overall: 47 3/8"
Blade Length: 31 1/2"
Handle Length: 10 1/2"
Weight: 2lb 3oz
Thickness at Guard: .230