American Owned and Operated - 100% American Based Customer Service - Custom Laser Engraving - No Accounts Required
Hanwei Swords for Sale
Hanwei Samurai Swords for sale are built for both collectors and the practitioner communities alike. These swords combine quality and value, performance and design. Hanwei and Paul Chen pieces available include the practical series, training and cutting katanas and the performance collection. Buy all types of popular samurai swords on sale now.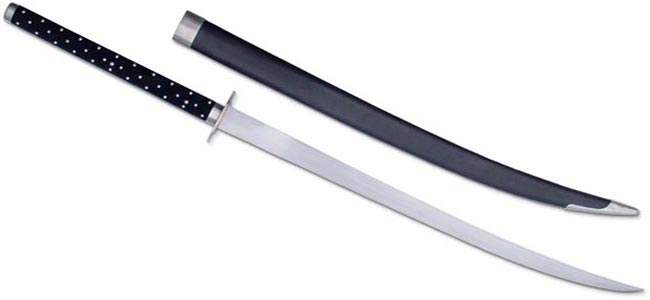 Hanwei Swords:
Dark Sentinel Swords
Functional Sharpened Blade
$149.99


Dark Sentinel swords are truly handsome swords that combine the slicing power of a Samurai katana sword with the nimbleness and propelling ability of fine European dueling swords. These swords are light and quick enough for single hand fencing weighing in at only 2 lbs 3 oz. However, the Dark Sentinel can also yield remarkable two handed power. These swords have a studded leather-wrapped grip with a stylized tsuba-like guard. Manufactured by CAS Iberia and Hanwei, the forged high-carbon steel blade is complemented by a leather-covered scabbard with steel fittings. These swords measure 47 3/8 inches overall. The blade length is 31 ½ inches. The thickness at the Guard is 0.230. The handle measures 10 ½ inches in length. From the slightly curved scimitar style blade to the studded leather handle. These are real, sharpened swords and should be handled with care. Buy these popular swords for just $149.99.