American Owned and Operated - 100% American Based Customer Service - Custom Laser Engraving - No Accounts Required
Renshu Samurai Swords
Renshu Katana Swords for sale are designed for cutting and martial arts practice. They feature tough through-hardened 5160 spring steel blades. Designed by Paul Chen and Hanwei these samurai katanas are made in the traditional Shinogi Zukuri style. They feature the fittings of the Hanwei Practical Series which makes them more affordable than other similar cutting swords. Buy the Renshu Series available with and without Bo-Hi in two styles, the Maru and the Mokko.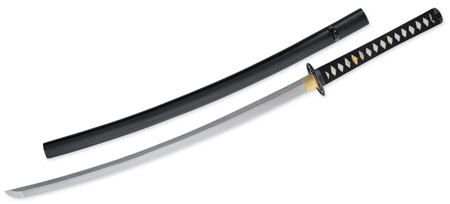 Renshu Samurai Swords:
Maru Renshu Katana Swords - No Hi
$299.99


Maru Renshu Katana Swords for sale are designed for cutting practice. These tough swords feature through-hardened, 5160 spring steel. They feature the same economical fittings as the Practical Series of swords making them more affordable than similar cutting swords. They are 41 ¾ inches in all and feature a handle length of 12 ½ inches. The 28 ¼ inch sharpened blade is designed in the Shinogi Zukuri style; it does not feature a groove (or Hi). The Mara Renshu Katana Swords are made in China and have a point of balance at 5 ¾ inch, a guard thickness of .27 inches, and a tip thickness of .16 inches. They weigh approximately 2 pounds, 5 ounces and have a 7/8th inch Sori. These cutting swords are part of the Paul Chen / Hanwei Samurai Sword Collection. Buy the Maru Renshu Katana Swords for $299.99.