American Owned and Operated - 100% American Based Customer Service - Custom Laser Engraving - No Accounts Required
Hanwei Swords for Sale
Hanwei Samurai Swords for sale are built for both collectors and the practitioner communities alike. These swords combine quality and value, performance and design. Hanwei and Paul Chen pieces available include the practical series, training and cutting katanas and the performance collection. Buy all types of popular samurai swords on sale now.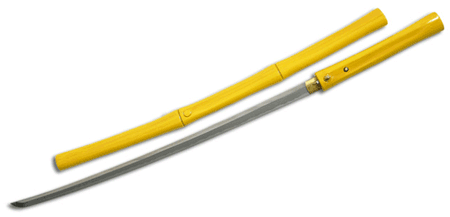 Zatoichi Stick Swords:
Bamboo Katana Swords
Premium Samurai Walking Stick
$599.99


Bamboo Stick Swords for sale measure 39 ¼ inches and have a hand-forged blade and hand-carved wood. Although it appears as though this is simply a bamboo walking stick, the stick actually contains a sharpened and functional katana blade. The tempered blade is hand-forged in 1065 high-carbon steel. The straight blade has been differentially hardened using an authentic claying process. This claying method produces traditional samurai edge hardness with a resilient blade body. The blade is 27 ¼ inches overall with an authentic temper line. The 11 ¼ inch handle and scabbard are manufactured of genuine, hand-carved bamboo. These stick swords also include a cloth storage sleeve. The sword design is based on the real stick swords featured in the movie Blind Fury and the stick carried by Zatoichi the Blind Samurai, a samurai popular in Japanese films, Anime and TV shows. The swords typically feature the following specifications: point of balance is 5 ½ inches, width at guard 1.12 inches, width at tip .75 inches, thickness at guard .26 inches, thickness at tip .17 inches, Sori at ¾ inch, weight approximately 1lb 13oz. Buy the Cas Iberia/Hanwei Bamboo Stick Swords which offer the function of a classic stick sword with handmade magnificence for $599.99.