Scottish Swords and Basket Hilt Broadswords Sale
Scottish Swords in assorted styles for sale. We offer Scottish Swords for display and ceremonies as well as functional Scottish Basket Hilt Broadswords and full size functional Claymore Long Swords.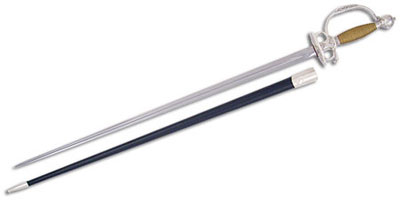 Scottish Swords:
Scottish Court Swords
Price: $399.99


Quick and elegant describe the Hanwei Scottish Court Sword. Replicating an original dating from the 1730's and belonging to an officer in Prince Charles Edward Stuart's army at Culloden, the finely chiseled silver-plated hilt and three-edged hollow ground blade exemplify the consummate skill of the wordsmiths of the period.
Overall: 38 1/8"
Blade Length: 31"
Handle Length: 7"
Weight: 1lb 15oz
Point of Balance: 2"