Real Swords - Real Knives - Popular Movie Replicas - Flat Rate Shipping - Simple Secure Checkout - No Accounts Required
Scottish Swords for Sale
Scottish Swords for sale include claymores, basket guard swords and William Wallace longswords. The Claymore was a Scottish word used to describe a two-handed medieval sword popular between the 15th and 18th centuries. Basket guard swords, or broadswords, feature a basket shaped guard and were popular as military sabers during the 17th and 18th centuries. They were called broadswords due to the width of the blade; which was wider than the civilian carried rapier. Wallace swords feature a similar design to that carried by William Wallace. Buy all types of popular historical and medieval Scottish Swords on sale now.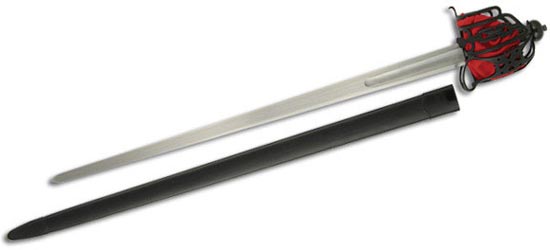 Scottish Swords:
Practical Basket Hilt Scottish Swords
Includes Custom Scabbard
$299.99


Practical Basket Hilt Broadswords for sale unite a traditional Scottish design with the construction required by the re-enactor. These swords are replicas of a real 18th century broadsword but have been modernized for re-enactment. The unsharpened, fully functional blade measures 31 ¾ inches. The blade is manufactured of 1065 high-carbon steel hardened to 50HRC. The blade material serves to limit edge-notching to a satisfactory degree while simultaneously providing flexibility and defense against brittleness. Lastly, the blade features 1/16th inch safety edges and a round tip. The wire-wrapped grip measures 6 ½ inches. These basket hilt swords are 38 1/8th inches in length. They have a basket liner made of leather covered in fabric. The scabbard is finished in a matte black which allows for customization by the re-enactor. These medieval broadswords usually have the following specifications: point of balance is 5 inches, width at guard 1.67 inch, width at tip .73 inch, thickness at guard .23 inch, thickness at tip .15 inches, point of harmonics is 20 inches, weight approximately 2 lb. Buy these Practical Basket Hilt Broadswords which combine historical traditional details with present-day construction for $299.99.