American Owned and Operated - 100% American Based Customer Service - Custom Laser Engraving - No Accounts Required
Pirate Swords for Sale
Pirate Swords for sale are available from several manufacturers and in a variety of styles. Decorative and display cutlasses are light and an ideal choice for awards and ceremonies. Cutlasses and cupped handle designs are popular for costumes, pirate themed and naval themed weddings and for stage. New pirate hats, boots and costumes are all on sale now. Buy all types of pirate swords, scimitars and cutlasses for display and reenactment.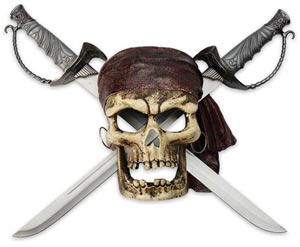 Pirates Swords Sets:
Pirate Sword Set
$59.99
Pirate Sword Set for sale features two short swords. The sharpened short swords are crafted of stainless steel and measure 20 inches in length. They have a deep blood groove and feature cast metal guards. The wall mount is made of hand painted poly resin in the shape of an intricate pirate skull. The short swords conveniently fit through the pirate skull for a truly unique display or can be removed and displayed separately. Please note: Mounting hardware is not included with the display. Buy the Pirate Sword Set with pirate skull display for $59.99.