American Owned and Operated - 100% American Based Customer Service - Custom Laser Engraving - No Accounts Required
Medieval Battle Axes and Maces
Medieval axes for sale are available in a variety of styles. Most of these medieval axes feature hardwood shafts, steel axe heads and are designed like real axes that were used in Europe and by Vikings. Buy all types of popular medieval axes, maces and functional battle replicas all on sale now.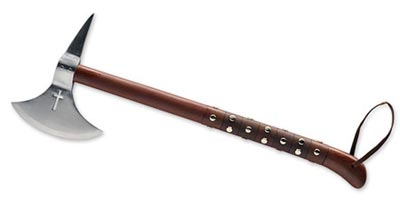 Brookhart Templar Axe
$189.99


Brookhart Templar Horseman War Axe for sale is made by Legacy Arms. They are 26 inches in all and feature a sharpened 5160 high carbon steel axe head. The blade length measures 7 ½ by 9 ¼ inches. They weigh approximately 3 pounds. The Templar Horseman War Axe is a medieval style axe that was designed for Legacy Arms by Bruce Brookhart. They have a full back spike and a sharp axe head, which is secured by a double pin to the curved hardwood shaft. They feature a tacked leather grip with a leather loop. Buy the popular Brookhart Teutonic Horseman War Axe for $189.99.