Medieval Battle Axes, Halberds, Tridents and Weaponry
Medieval Battle Axes, Functional Battle Axes, Tridents, Halberds and other assorted Medieval Weapony. Modern Survival Axes, Survival Spears, Tactical Hammers, Karambits, and Survival Equipment are also available.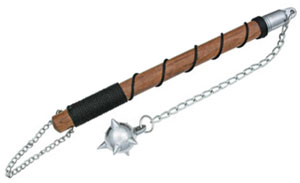 Single Ball Mace
Price: $19.99


Single Ball Mace is 17 5/8" overall. Black cord wrapped wooden handle. Linked chain attached to single spiked cast metal ball.