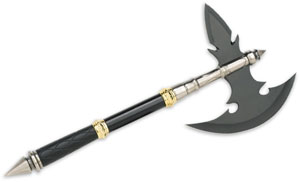 Albion Battle Axe with Wall Display
Price: $39.99


Named for the mythical land once inhabited by chivalrous knights who so bravely protected their quaint villages. Constructed with a 8 1/2" stainless steel axe head with 4" rear blade. The traditional handle is accented with cast metal spacers and solid metal tip. Axe is 21 1/2" overall. Includes wooden wall mount display plaque.


---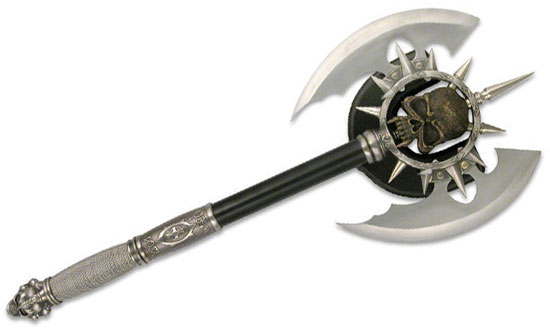 Skeleton Battle Axe
Price: $69.99




Skeleton Battle Axe features two solid cold hard stainless steel axe heads surrounding outstretched metal spikes and cold cast poly resin skull face. The aluminum shaft is constructed with cast metal accents and a wire wrapped grip. Includes hardwood wall display plaque. Axe is 24 3/8" overall.

---

Official Kit Rae
Kit Rae Ellexdrow War Spear
Price: $129.99



Kit Rae Ellexdrow War Spear. The first spear in the Kit Rae line. Ellexdrow is the spear of the 200 year old Mithrodin master, Kethol av Torketal, who changed the tide of the battle in the Red War by throwing his spear and piercing the heart of The Dark One, securing his defeat (from the Swords of the Ancients mythology). 71" overall. 18 3/8" and 8 1/2" AUS-6 stainless blades with laser engravings and Kit Rae® emblem. Black stainless shaft with leather wrapped grips and finely detailed metal fittings. Includes colorful custom art print and certificate of authenticity. Serialized. Ships disassembled in two sections.

---

Hanwei Bearded Axe
Price: $129.99



PC1073


Paul Chen Bearded Axe is 31 3/4" overall. Axe has a 8 1/2" axe head with 5 3/4" sharpened cutting edge. Hardwood handle. Head has black finish with polished edge. Patterned after weapons used by the Vikings in 10th century Scandinavia and 11th century Britain.

---

Kit Rae Black Legion Battle Axe
Price: $139.99


This Kit Rae adult collectible features solid metal handle parts with an antique metal finish and genuine leather wrapped shaft. The 15" blades are constructed from 420 stainless steel with fantasy cut outs. Includes art print and certificate of authenticity. This massive fantasy collectible has is 35" overall.

---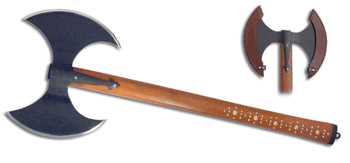 Hanwei Hero's Battle Axe
Price: $189.99



PC1074


The legendary double axe has long been associated with heroes and heroics, and the Hero's Axe from Hanwei perpetuates the legend. Almost 30" overall with 10" polished edges, fearsome but with graceful lines and studded decoration, this axe is the ultimate combination of form and function. Leather edge covers for the tempered edges are provided for safe portability.

Overall: 30"
Blade Length: 8 3/4"
Handle Length: 26 1/2"
Weight: 4lb
Thickness at Guard: .240
---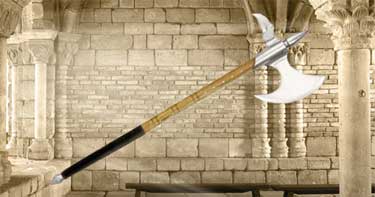 Medieval Battle Axe: Full 38 Inches Overall
Medieval Battle Axe
Price: $249.99



Item Number: MDL55095
Handmade Item > In Stock


Overall Length: 38"
Blade Length: 10"
Handle Length: 30"
Spike: 4"
Width: 12"
Blade Material: Hand Hammer Forged High Carbon Steel
Handle: Sagad Wood
Weight: 5.3 lbs.
Medieval Battle Axe: A single bladed battle axe with an overall length of 38 inches. The beautifully hand crafted Medieval Battle Axe has a 10 inch primary blade and is backed by a 4 inch long sharpened armor piercing hook. This Battle Axe has solid steel thrusting spikes at both ends of the beautiful sagad wood leather wrapped handle.