Medieval Battle Axes, Halberds, Tridents and Weaponry
Medieval Battle Axes, Functional Battle Axes, Tridents, Halberds and other assorted Medieval Weapony. Modern Survival Axes, Survival Spears, Tactical Hammers, Karambits, and Survival Equipment are also available.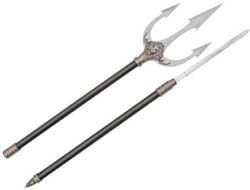 Poseidon Trident Spear
Price: $89.99


Poseidon Trident Three Point Spears are a massive 65 1/8" overall. This classic piece has a three pointed stainless steel trident with sculpted cast metal bolster and fittings. Spear has a black finish steel shaft. Unscrew the shaft to reveal a 13" stainless steel spear blade. Great for display.