Cold Steel Swords for Sale
Cold Steel Swords, Samurai Swords, Knives, Canes and Military Hardware for sale. These real swords measure up to their rigorous standards for quality and performance. Functional Military Swords and knives are available. Cold Steel designs are tried and true. These functional tools are the result of painstaking research and development. Cold Steel stands behind their products.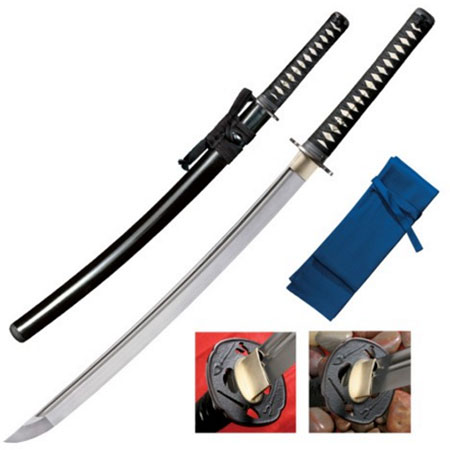 Cold Steel Swords:
Practical Chisa Katana Swords
$379.99


Warrior Chisa Katana Swords for sale are manufactured by Cold Steel. These swords combine traditional Japanese styling with practical fittings. These swords measure 36 inches overall and weigh 37.1 ounces. The 24 ½ inch functional blade is crafted of 1055 Carbon steel. The handle measures 11 ½ inches and is crafted of ray skin with a traditional Japanese wrap of black silk braided cord. To honor the traditional Japanese design, Cold Steel manufactured the Menuki of brass. These swords also include a black lacquered wooden scabbard and a sword bag. Buy the Warrior Chisa Katana Swords for a sword that combines authentic Japanese style with powerful Cold Steel construction for $379.99.