American Owned and Operated - 100% American Based Customer Service - Custom Laser Engraving - No Accounts Required
Lord of the Ring Swords for Sale
Lord of the Rings Swords and Hobbit Movie Swords from the epic works of JRR Tolkien and the award-winning film adaptations by Peter Jackson. Officially licensed swords are available from The Lord of the Rings: The Fellowship of the Ring, The Two Towers and The Return of the King. The Hobbit: The Unexpected Journey, The Desolation of Smaug and Battle of the Five Armies replicas are also available. These authentically detailed movie swords and replicas are made from the actual film props by Weta Workshop of New Zealand. Made by United Cutlery, each item includes display and Certificate of Authenticity.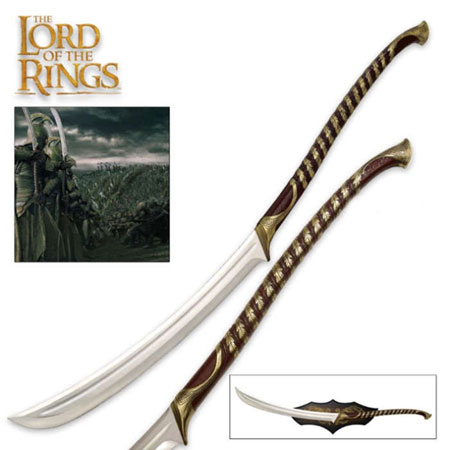 Lord of the Rings:
High Elven Warrior Swords
$299.99


This officially licensed and superb quality reproduction item is an exact replica of the High Elven warrior sword that appears in the opening battle sequence of The Lord of the Rings movie trilogy. Measuring 49 3/4" overall, this elegant and deadly sword features a 29 1/8" tempered, 42 stainless steel, false edged blade. The solid metal handle offers a simulate leather grip accented with brass plated Elven vine designs. This item includes a 23" x 9" x 3/4" wood display plaque with silkscreen design and a certificate of authenticity. United Cutlery, UC1373.