Real Swords - Real Knives - Popular Movie Replicas - Flat Rate Shipping - Simple Secure Checkout - No Accounts Required
Lord of the Ring Swords for Sale
Lord of the Rings Swords and Hobbit Movie Swords from the epic works of JRR Tolkien and the award-winning film adaptations by Peter Jackson, Swords Direct is pleased to offer the officially licensed movie collectibles, daggers and swords from the Lord of the Rings movies and the Hobbit movies. Officially licensed swords are available from The Lord of the Rings: The Fellowship of the Ring, The Two Towers, The Return of the King, The Hobbit Movie: The Unexpected Journey and The Hobbit: The Desolation of Smaug. These authentically detailed movie replicas are made from the actual film props by Weta Workshop of New Zealand. Made by United Cutlery, each item includes display and Certificate of Authenticity.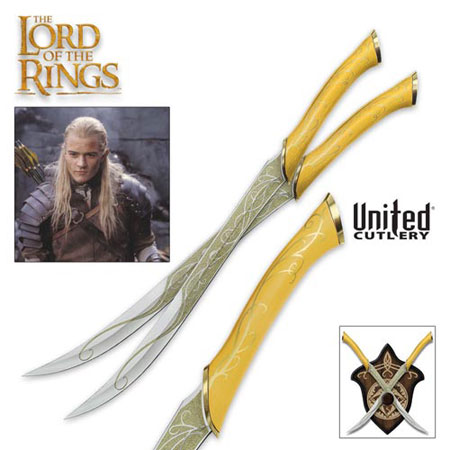 Lord of the Ring Swords:
Legolas Swords
Includes Wall Display Plaque
$179.99




Item: UC1372

Legolas Swords for sale are genuine reproductions of the real daggers used in the popular film adaptations of the Lord of the Rings. These Legolas Swords, sometimes called his fighting knives or daggers, are real versions of the movie prop created by Weta Workshop of New Zealand. These sharpened swords measure 22 3/8th inches in all. They feature 15 ¾ inch, sharpened stainless steel blades that have a gold tone color. They are full tang. The solid American oak handles have a gold and tan color with an Elven vine design. These officially licensed Lord of the Rings movie swords have a real cast metal guard and pommel. The Fighting Knives of Legolas include a wooden wall display plaque. The display plaque is adorned with the Legolas family badge. These swords also include mounting hardware with instructions for display and a certificate of authenticity. All the officially licensed movie collectibles from Lord of the Rings and the Hobbit are on sale now. Manufactured by United Cutlery, buy these officially licensed Legolas Swords for $179.99.