Lord of the Ring Swords for Sale
Lord of the Rings Swords and Hobbit Movie Swords from the epic works of JRR Tolkien and the award-winning film adaptations by Peter Jackson, Swords Direct is pleased to offer the officially licensed movie collectibles, daggers and swords from the Lord of the Rings movies and the Hobbit movies. Officially licensed swords are available from The Lord of the Rings: The Fellowship of the Ring, The Two Towers, The Return of the King, The Hobbit Movie: The Unexpected Journey and The Hobbit: The Desolation of Smaug. These authentically detailed movie replicas are made from the actual film props by Weta Workshop of New Zealand. Made by United Cutlery, each item includes display and Certificate of Authenticity.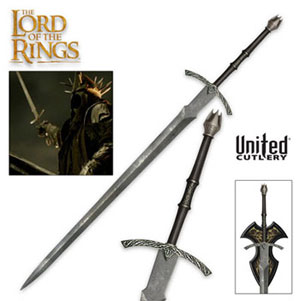 Lord of the Ring Swords:
Witch King Swords with Display



Item: UC1266
Witch King Swords from the Lord of the Rings. This officially licensed reproduction sword from The Lord of the Rings trilogy is the sword of the Witch King. The Witch King was the leader of the nine Ringwraiths known as the Nazgul. Once mortal and a king in his own right, the Witch King was corrupted by the power of the One Ring and now serves the evil dark lord Sauron. This sword measures 54 5/8 inches overall, and offers a 39 3/4 inch tempered 420 stainless steel blade. The hilt features a genuine leather-wrapped handgrip with solid metal cross guard and pommel in an antique metal finish.

---
Back to Lord of the Ring Main Page