Roman Swords, Greek Swords, Spartan Swords and Armor
Roman Swords for sale includes Spartan, Greek and Gladius styles. Both display versions and the 300 Movie collection, which includes the Officially Licensed Sword of Sparta, Helmets and Shields, are all available for purchase. Recreate an entire Roman soldier's costume with helmets, fully functional body armor that includes chest, back and gauntlets, and a sword. The Gladius designs offered have more of a straight blade with a pointed tip rather than the other styles. Gladius was actually one of the Latin words that was used to describe swords used by Roman foot soldiers in Ancient Rome. It has vast historical significance. Our selection makes it easy to find the perfect fit for your needs.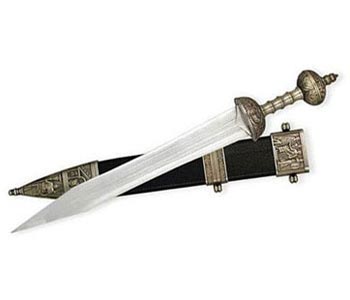 Roman Swords:
Roman Officer Swords
Price: $69.99


Roman Officer Swords are 30 inches overall. These beautifully decorated swords have 19.5 inch pointed blade with a highly detailed hand guard and pommel. The hard scabbard is decorated with Roman style images. Great item for display or stage.