Roman Swords, Greek Swords, Spartan Swords and Armor
Roman Swords for sale includes Spartan, Greek and Gladius styles. Both display versions and the 300 Movie collection, which includes the Officially Licensed Sword of Sparta, Helmets and Shields, are all available for purchase. Recreate an entire Roman soldier's costume with helmets, fully functional body armor that includes chest, back and gauntlets, and a sword. The Gladius designs offered have more of a straight blade with a pointed tip rather than the other styles. Gladius was actually one of the Latin words that was used to describe swords used by Roman foot soldiers in Ancient Rome. It has vast historical significance. Our selection makes it easy to find the perfect fit for your needs.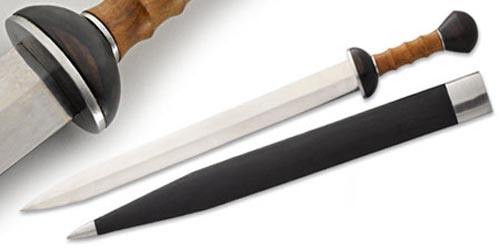 Roman Swords:
Roman Maintz Gladius Short Swords
$189.99


Roman Gladius Swords for sale measure 29 ½ inches in all. They have a 22 inch blade. The double edged blade is manufactured of functional and sharpened 5160-high carbon steel. The handsome handle is crafted of hardwood and features a mirror polished steel spacer which provides additional strength and durability. The handle measures 7 ½ inches in all. The Roman Gladius Swords are manufactured by Legacy Arms/Generation 2. They include a black leather wrapped wooden scabbard which features steel accents at the throat and tip. These Roman Swords weigh approximately 1.14 pounds and feature a point of balance at 3 ½ inches. Buy these popular Roman Gladius Swords for $189.99.