American Owned and Operated - 100% American Based Customer Service - Custom Laser Engraving - No Accounts Required
Cavalry Swords for Sale
Military Swords for sale include all types of designs. The most popular swords include light and heavy cavalry sabers, officer and NCO swords. Buy all types of swords and sabers from modern US Military issue to historical Union and Confederate designs on sale now. We are proud to be a preferred military supplier for over 21 years.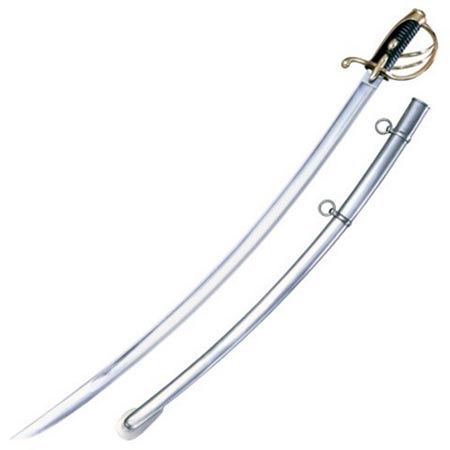 1830 Napoleon Cavalry Swords
$239.99


Cold Steel 1830 Napoleon Cavalry Saber swords for sale are a popular item from our collection of military swords and sabers. While the design of this sword is modeled after the Napoleon Cavalry saber sword, these swords also closely resemble the 1860 Light Cavalry saber swords used by the US military. The official and authentic Cold Steel 1830 Napoleon Cavalry Saber swords measure 39 inches overall. The sword features a 33 ¾ inch saber blade that is forged in heat treated 1055 carbon steel resulting in a tough spring temper. The robust, relatively curved functional blade has an extensive, thick fuller and a sharp point. Manufactured by Cold Steel, these popular 1830 Napoleon Cavalry Saber swords feature a 5 ¼ inch, genuine leather wrapped handle. The hand guard and pommel are crafted with polished brass fittings. These swords also include a heavy duty, polished steel scabbard which features rings which enable the sword to be hung from a sword belt or baldric. Cold Steel 1830 Napoleon Cavalry Saber swords are first-rate collectibles for military history collectors and history buffs alike. This authentic Cold Steel sword weighs 37.7 ounces. Buy the Cold Steel 1830 Napoleon Cavalry Saber swords for $239.99.